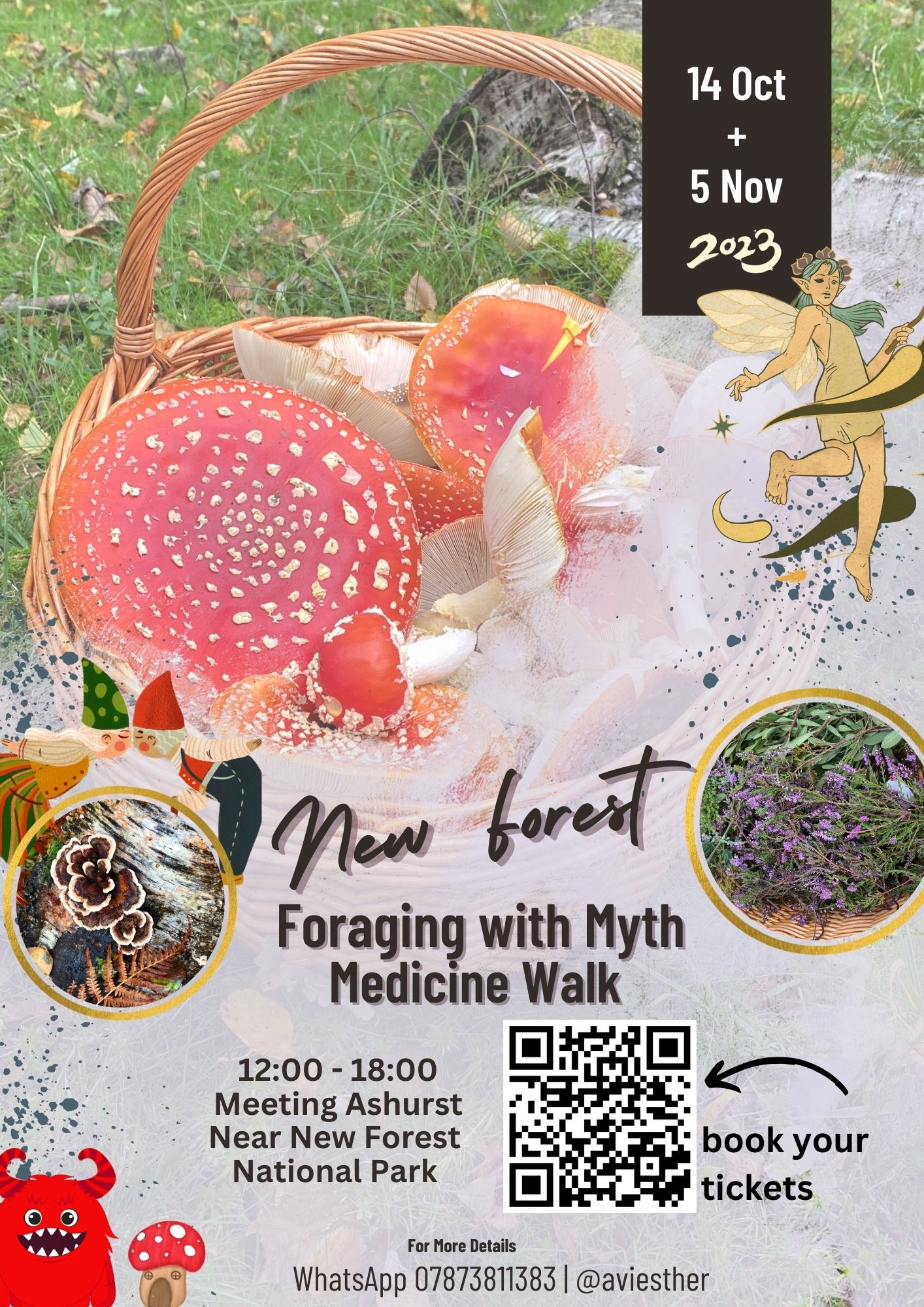 Nature's Hidden Treasures: Medicinal Mushroom and Plant Ramble
12pm – 6pm
Join this autumnal walk to hear seasonal stories of the land, feel tuned in to yourself and connect to the Ancestors of the New Forest while learning about the trees, herbs and mushrooms of this ancient forest.
This programme intends to teach participants how to connect with themselves and the land alongside being able to identify edible and medicinal trees, herbs and mushrooms more easily. Participants will leave with the education of what it is to intuitively and knowledgeably forage a small number of forest items to feel more confident to independently identify and prepare forest food, tea, and tincture.
This educational walk focuses on identifying forest food and medicine; however, you are welcome to bring a small container, e.g., a basket, to collect examples of the trees, herbs and other identified items.
We will stroll 3-6 miles through the forest and heathland. There will be no hard climbing. There will be no long formal breaks, but we will regularly pause to look and learn about the different trees, herbs and mushrooms.
Please wear comfortable, waterproof shoes, appropriate weather jacket and bring a bag or basket if you wish to collect forest momentos. Many people enjoy documenting what they find on their phones on foraging apps like "Forager," "Picture Mushrooms," and "Picture This," all of which offer a free version. Feel free to pre-download and familiarise yourself before the course.
All levels of experience are welcome, from native to expert, as there are multiple aspects to the day, including foraging while extending into mythology and tuning into our bodies to feel what "medicines" you are attracted to discover a deeper connection with nature. There is no age limit, and children are welcome. As this experience involves physical activity, all participants must be physically fit to remain with the group. The group size can range from 5 to 30 participants.
At the end of our walk, you are invited to complimentary tea at the New Forest Pub before we say goodbye.
You will experience:
A knowledge of the local woodland's most prolific medicinal and edibles.
A complimentary pre-forage cup of tea with locally foraged fungi
An increase in confidence in identifying trees, herbs, and fungi
A recipe for how to prepare what you've identified at home
A feeling of joy and a sense of presence from nature connection.
Meeting in Ashurst, close to public transportation and easily accessed from London, Winchester and Brighton then journeying into the woods for this full day of connecting with nature and ourselves to find the gifts within the forest.
I would like to make this event accessible to everyone while also supporting the costs of running a business.  If you need a discounted ticket please use one of the following, Students/Benefits or Lower Income.